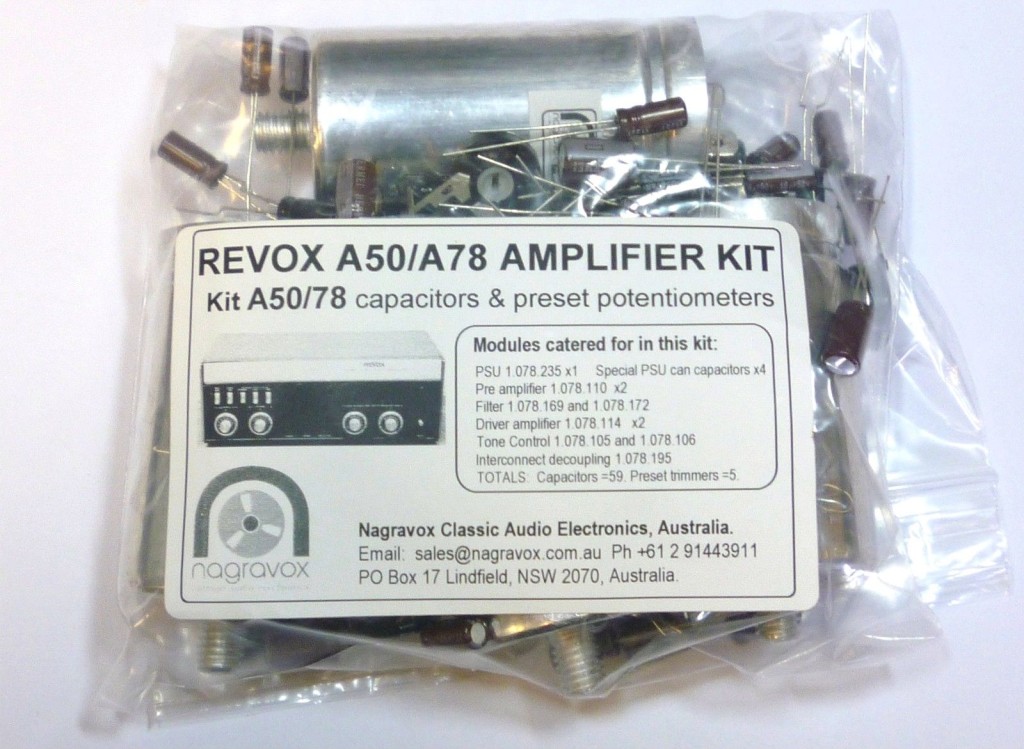 The kit contains everything you will likely need to replace and upgrade those components that due to age have deteriorated.  The kit contains specially sourced, new, freshly manufactured components from reliable manufacturers whom we have been dealing with for many years. No NOS (new old stock) or 2nd hand items!!
This kit contains:
•          power supply electrolytics. Newly manufactured to fit as a perfect replacement.
•          replacements for all other electrolytic and tantalum capacitors
•          a full set of fully enclosed cermet type preset potentiometers for power supply and main amps adjustments
•          extra components included to cater for most main amp and preamp board variations / versions
•          full instructions for each functional update section are included with pictures before and after detailing  which components go where and a host of useful tips, checks and basic calibration.
Weight of kit - 420g
Capacitors = 59.   Preset trimmers =  5.
Tools you will need:
•          soldering iron and solder (prefer Pb type but Pb free is OK)
•          desoldering tool or solder sucker and/or de-soldering braid
•          switch contact cleaner
•          screwdrivers, nose pliers, side cutters
•          multimeter for setting up power supply and main amps
More about the kit
In house we MAKE the can capacitors ourselves using low leakage  conservatively rated capacitance and working voltage electrolytic capacitors sourced from reliable OEM's rated 63VDC. We also increase the capacitance slightly to provide improved power supply smoothing. (why - because its a prudent practice and will improve ripple, hum and noise - 6800uf for A50 and 10,000uf OPTIONAL for A78 [if you want an even higher capacitance for A78 see notes below but there is an additional cost of $22 for this option]). These large can capacitors fit directly in place exactly like the originals using your existing nuts.
The audio signal path capacitors are specially selected low noise, low leakage / high stability types and fit in easily on the point to point wiring terminal board.
The preset pots are cermet and fully enclosed guaranteeing decades of trouble free operation and adjustment.
EXPENSIVE?  Why does it seem expensive compared to our tape kits?  The high capacitance electrolytics are high grade, low ESR, 105C, 63VDC rated capacitors specifically made for high grade power applications. They are aluminium can encapsulated with stud mount - exactly the same as the originals.
OPTIONAL 10,000 uf for A78. Extra cost $30  AT CHECKOUT please request invoice before paying and specify in message / notes "require 10,000uf option"
Don't waste your time replacing just one or two capacitors on machines that are now 30+ years old, replace ALL the troublesome electrolytics and preset trimmers. Usually the old high capacitance capacitors associated with the power supply  will be in suspect possibly poor electrical condition even though they may appear visually OK. Some may even test OK initially on a low voltage modern tester. However capacitors usually need to be tested after they have operated for a while at working voltage and cycled through a few ON / OFF surges. For such relatively low cost components its prudent to just replace the lot. CAUTION: be careful of buying 2nd hand capacitors – it just is not worth it! Ours are new recent manufacture and specially designed as a worthy replacement for the originals.